ADMIN EDIT:
Since this thread is no longer about amazing Scratch-Built Samus figures, I decided to give it a more appropriate subject title.
Hey all.
A quick introduction since I don't want to bother with a thread-
I've been browsing the MDB message board for several years now. You guys may not know me, but I know most of you. I accessed the board through my brother's account, but never posted with it since it wasn't my own (had one LOOONG ago, forgot the login data
).
Of course, I loves me some Metroid. I mean I REALLY loves me some Metroid. Been a fan since playing Metroid 1 on the NES back in the...NES...days. ...
Played every game, love 'em all. Got lot's of merchandise, drawn fan artwork, obsessive media archiving, ETC.
So, yeah. OK.[/color]
I was scoping coverage of the Japanese garage-kit & licensed product display event,
Wonder Festival 2007
, drooling a- I mean, uh, admiring all the awesome new products from some of my favorite licensed properties (the show-stealing Revoltech Rei Ayanami, mecha stuff GALORE). I was browsing a gallery of shots of random pieces from the show floor when lo and behold, look at what I found!
A
scratch-built samus figure
! Ah-hhHHHH!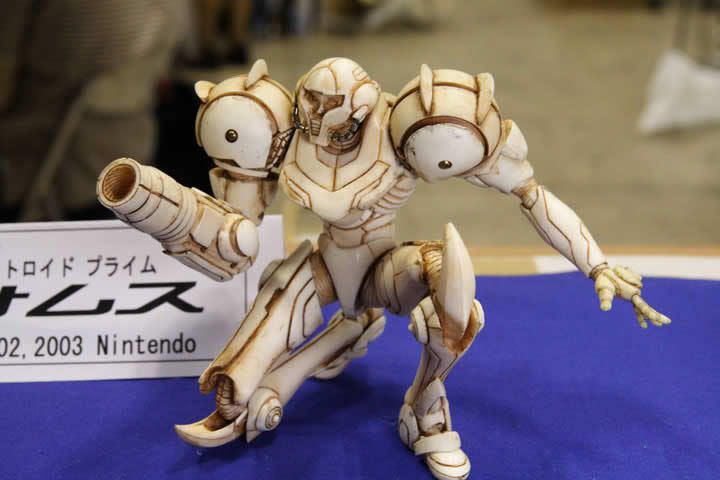 So much want is that me to is.
I did some digging, & managed to find this page with several in-progress shots the whole page down-
http://www.garagekit.jp/page108.html
As I understand it, often times a really well made figure/kit/statue/whatever will be produced in limited quantities by an amateur group, or sometimes even picked up & produced by a major manufacturer. Are you hoping what I'm hoping?
PLEASE PLEASE PLEASE PLEASE PLEASE PLEASE PLEASE PLEASE PLEASE PLEASE