Metroid: Ultimate Dread
, the exciting and long-desired sequel to Metroid Fusion, has entered another stage of completion!
Sakamoto has leaked some concept art on his blog, detailing some of the ideas that are going to be present in the next greatest installment of the franchise.
Said Sakamoto:
"I know I said you can't compare Metroidu: Ossa M and Superu Metroidu, but I am going to compare these two games now: Metroidu: Urutimatu Dreadu will be 500 times better than Superu Metroidu."
"All my love is in this game," added Sakamoto.
In this piece of concept art, we see Samus, mysteriously in her varia suit (which makes my head spin... doesn't this game take place after Fusion?).
Also in the picture is her ship from Fusion, and a wonderfully stylized shot of Adam Malkovich... could he play a major role again?
Aside from Ridley and a mysterious computer entity hovering over a mysterious facility, there is little else to note in this picture.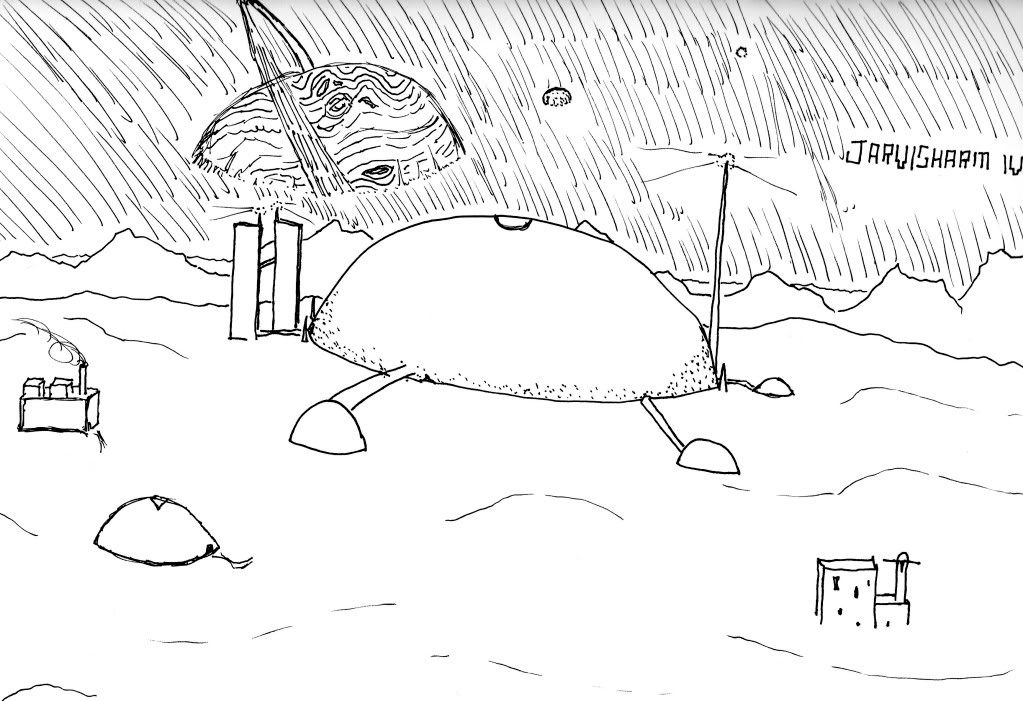 We finally have some info about Jarvisharm IV:
"Jarvisharm IV is the fourth moon of the planet Singo VIII, a great and raging gas giant. Jarvisharm is a rocky outcropping in space whose stable surface made it ideal for the installation of a Galactic Federation base used for military training and weapons development. However at the time of the game the station has been assaulted by a mysterious outside force attempting to claim its weapons technologies for its own. Samus is sent as a last resort to either recover the station and its survivors, or to destroy the facility to prevent it from falling into the wrong hands."
Sounds pretty exciting, huh? I wonder who this outside force is??
"I'm not terringu," Sakamoto says, with a coy smile.
But what he WOULD reveal is some frankly AMAZING concept art of the last boss of the game, which makes the previous statements null and void! Sakamoto said on his blog that he had some leftover ideas about the last boss taken from Zero Mission, but he didn't use them, instead settling on the "far more intimidating" designs for MechaRidley as seen in Zero Mission.
Frankly, I am so excited for this game; this is exactly the type of high stride the series need to keep up after the fun action-packed Other M.
Discuss Ultimate Dread's concept and story here, since the official thread was locked for some reason.